Since 2012, Bazylia has been supplying original interior design accessories. The wide range of products makes the distributor recognised not only among regular customers. Bazylia meets the current requirements of buyers using occasional discounts and promotions, thus helping to reach new customers.
implementation of Magento 2 using the proprietary AuroraBox template

integration with ERP Subiekt system

implementation of a proprietary multi-warehouse module

integration with BaseLinker

use of Magento 2 - multistore functionality

SEO optimisation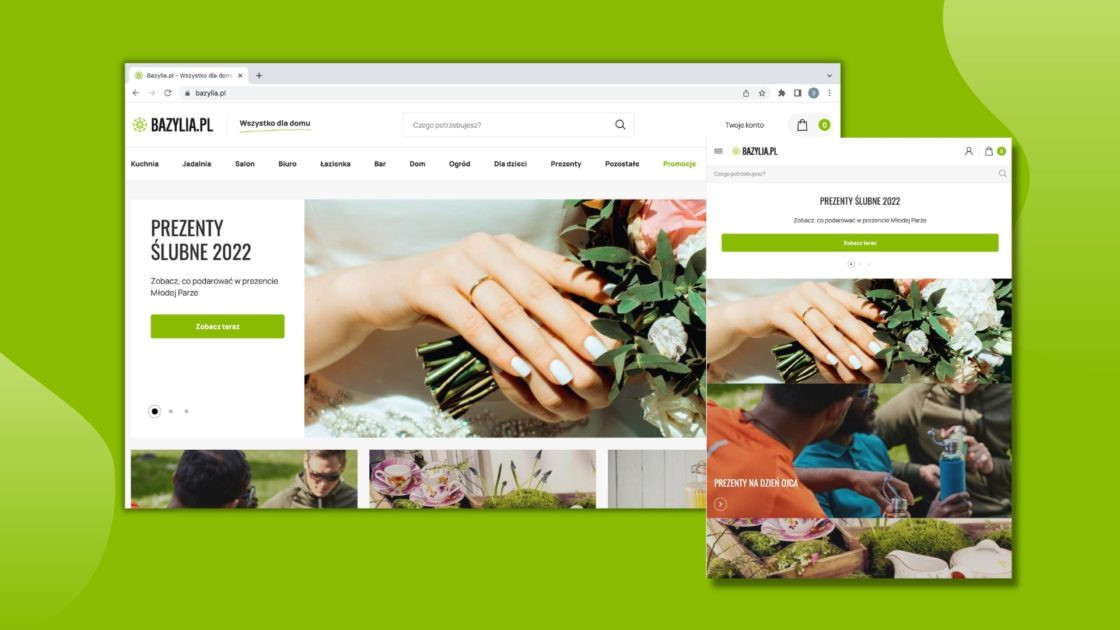 The online shop Bazylia has so far operated on Magento 1. The insufficient possibilities of modification, implementation of new functionalities, as well as the low efficiency of this platform led to a decision to change the existing engine for a more efficient and scalable one.
A thorough study of Bazylia's needs, discussions about future plans, and the expected budget allowed us to offer technological solutions that would meet the project's business objective.
The ideal product to do so turned out to be our proprietary AuroraBox template. The use of a boxed solution allowed us to reduce the time needed to implement Magento 2 to a minimum. However, full possibilities for development and integration of new functionalities were kept. AuroraBox also effectively optimises the costs of the migration process to the new Magento 2 version.
What were the benefits of migrating to Magento 2 for eCommerce?
increased page load speed,

providing unlimited development possibilities,

improved view and functionality on mobile devices,

enabling new reporting options,

allowing effective SEO optimisation.
Automation of warehouse and accounting processes

Subiekt GT is known for its extensive capabilities, which facilitate the operations of many companies. Integration with Magento 2 has enabled the automation of warehouse and accounting processes.
Subiekt integration functionalities include:
automatic updating of stock levels

downloading order information

automatic generation of commercial documents

possibility of creating reports and statements based on data downloaded from Magento 2

updating of customer and product files between the sales platform and the ERP system
Bazylia has an extensive product range, which is presented in many sales channels. The integration of Subiekt with Magento allowed all documents, stock levels and historical data to be automatically collected in one place. At the same time, the tool has been successful in automating many accounting processes that were previously performed manually.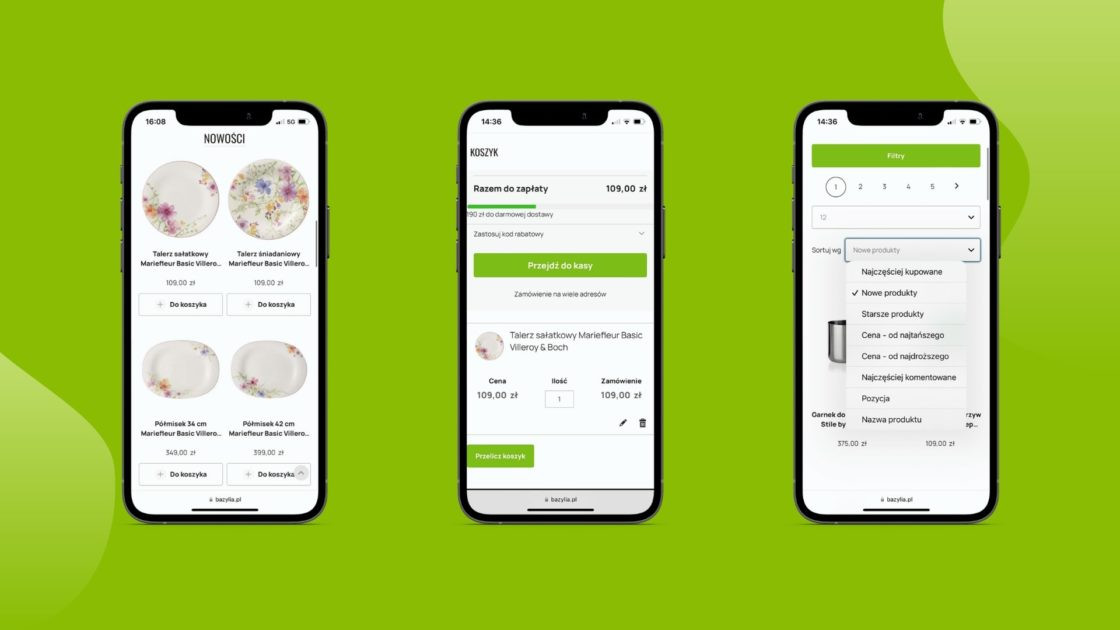 All information in one place

Bazylia uses a range of suppliers for its daily business. The manual downloading of product and stock information from each partner individually required a lot of time.
We created a solution for automating this process. The proprietary module was linked to the ERP system, which enabled Subiekt to independently collect and store information from all the suppliers that Bazylia cooperates with.
BaseLinker as a multi-channel sales service automation

BaseLinker is effective in automating the processes of eCommerces that have multiple sales channels e.g.: stationary shops, marketplace or telephone orders.
The integration of the BaseLinker tool has allowed Bazylia to develop an Omnichannel strategy. In practice, this means that all sales and customer service channels are designed to work together to make the shopping experience as convenient as possible. Bazylia uses sales on popular platforms such as Ceneo, Allegro and Empik, so the ability to manage their sales in one place became essential.
BaseLinker enables::
making bulk changes to offers,

synchronisation of current stock levels on all supported platforms,

automatic coordination of orders – from status updates, invoice generation, to shipment and preparation of necessary documents for printing.
Native Multistore function

The client wanted to support two sales platforms from one administration panel. This solution was guaranteed by the Magento 2 native function – Multistore. This enabled us to launch a second premium shop – Home, which also has stationary shops.
The results achieved:
two separate website URLs

different graphic designs

common administration panel for two eCommerce sites
SEO optimisation is essential for successful online sales. Google's algorithms require constant monitoring of eCommerce to ensure its position is high in the search engine
What actions have we carried out to improve the visibility of the website?

new structure for H headings

category naming matched to keywords

analysis of the product filtering system

verification of all content and links available to the Google robot

analysis of internal and external links that have been blocked from the robot

verification and setting of 301 redirects to the new version of the shop

""Aurora is professionalism in its pure form. Flexibility and responsiveness to our needs is something we have long sought in an eCommerce solutions partner.
The initiative shown by the company's Employees, great communication and their commitment make the projects carried out together successful.""

Milena Zubik
Retail Ecommerce Manager // Everyday Sp. z o.o.