AuroraBox is a box version of Magento prepared by us and suited to the fashion industry. It's a combination of the leading shop system and the experience gained by our company, specialising in Magento.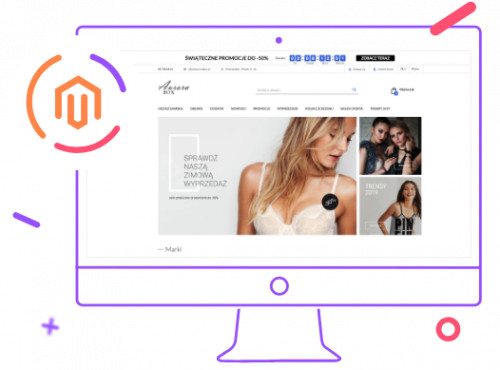 Why is it worth using the Magento based AuroraBox?
Magento has already been chosen by almost 450 000 companies in the world, including the biggest fashion brands like Hermes, Paul Smith, Nike, Reserved, Eobuwie and many others.
This industry is very demanding, which is why it is worth to rely on solutions which have been tested and meet the expectations of buyers.
Using our solution allows you to reduce implementation costs by up to 50%, and further development by 30%.
AuroraBox is a collection of the best solutions for fashion shops. All its elements are easy to personalise, and the package of additional modules improves the operation of the shop.
Our solution has been adapted to sales in Poland. A properly designed path-to-purchase and all popular integrations with external operators allow for practically immediate sale.
An out-of-the box but tailored solution
Changing trends in the design of online shops require making adjustments to meet the expectations of customers. By choosing AuroraBox, you can be sure that the graphic template of the site will be attractive and at the same time it will meet all the standards currently set by the industry.
We treat each order individually, thanks to which we guarantee that there will not be two identical implementations on the market. We focus on uniqueness and the final WOW effect, which the visitors of your website will love.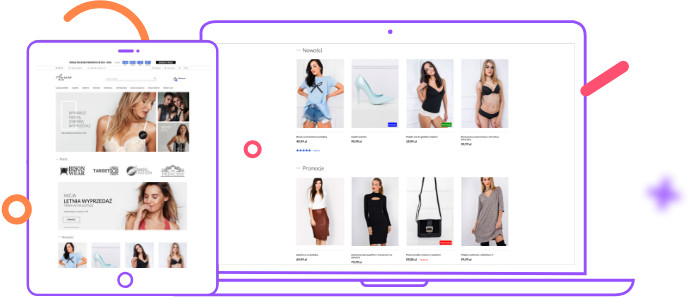 In the demanding fashion industry is even more important to focus on high usability and choose proven solutions.
The fashion industry has the highest percentage of returns. Consumers require high-quality images that correspond to the real products, an easy path-to-purchase, quick payments and multi-channel operations. On many occasions, customers will give up their purchase if the products on the shop's website have not been presented in the right way.
Aurorabox allows you to freely expand the shop and adapt it to market requirements. This means that further changes can be easily made in the future.
Mobile-First is a trend that has existed in e-commerce for some time now. These days all implementations start with mobile devices because they generate over 50% of all traffic in the shop. Mobile shopping has to be such an experience for the client that he will not forget and will gladly repeat. Therefore, the entire purchasing process has been adapted to tablets and smartphones.
AuroraBox takes care of the security of customer data, as it is a shop that complies with the GDPR and personal data protection policy.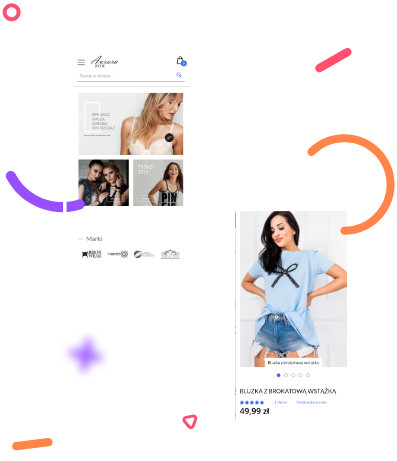 Prepared for sellers
The shop prepared by our developers is 100% compatible with Magento principles. We guarantee that the high quality of our code, which is always verified twice, eliminates the possibility of errors.

The speed of operation is ensured by the appropriate code structure and optimisation of processes taking place in the system. Faster page loading, faster shopping and faster search will give you an advantage over other sellers.

Our team's proprietary solutions will have an impact on building your advantage on the market. Thanks to them you will always be one step ahead of the competition.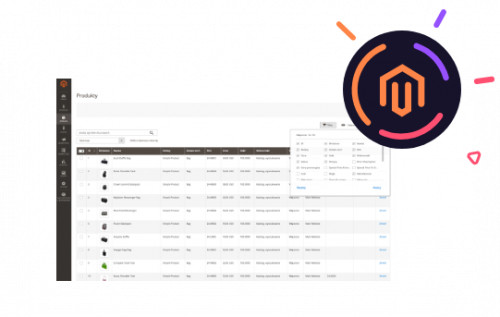 Why do the best choose Magento?
See what makes Magento stand out from other online shop systems.
Scalability
Magento's scalability is one of its strongest features. This software handles more orders very well and allows an almost immediate response from the server when browsing individual directories. It has a huge impact on the conversion, because it means faster page loading and obtaining information from databases.
Open Source
The open structure of the code, which can be easily modified, and the large possibilities of installing additional plugins, make Magento a platform that is practically unlimited. In other words, it can be continuously developed even when in operation.
Marketing opportunities
Personalisation of the offer, customer segmentation, up-selling and cross-selling, email marketing, sales automation, recovery of abandoned shopping carts are just a few of the marketing opportunities Magento offers.
SEO support
Magento is a platform that SEO specialists value because of the functionality and large optimisation possibilities for search engines. It's the flexible architecture, which due to additional modules, allows it to be adapted to individual requirements.
Simple administration
An extensive but transparent administration panel is the advantage of the platform. Many levels of administrative access, the ability to generate extensive reports, free management of products, customers and orders are just a few options that encourage new users.
A variety of available solutions
Magento fans are a huge community around the world, thanks to which many ready-made commercial modules are ready to be installed. The better and verified ones can be found in Magento Marketplace.
AuroraBox improvements
The dedicated, proprietary improvements in AuroraBox do not only facilitate sales processes but have a real impact on the increase of conversion. They were created on the basis of our experience and many years of work on the implementation of Magento.
Automatic related products
Sell more thanks to cross and up-selling campaigns. Set product packages, create sets and combined special offers. You decide what sales promotions the customer will see.
Compliant with GDPR
Act in accordance with the GDPR rules, manage provisions, consents and privacy policy settings. All these from the level of the administration panel.
Intelligent product items in categories
Find the place for products in a category and juggle them to increase you sales. Choose the ranking factors that will determine their position, e.g. sales volume, availability in stock or popularity.
Layout matched to the brand
Choose the perfect layout of the home page and product sheets and select the colours of the individual elements. Stand out!
Optimised shopping process
The optimised path-to-purchase was based on our experience and analysis. Thanks to this, you can increase the conversion by as much as 10-50%.
High performance
Do not worry about performance - you can be sure that the shop will operate at full power. All thanks to the precisely written code and process optimisation.
These are just a few selected improvements. Contact us if you want to know all the available functionalities.